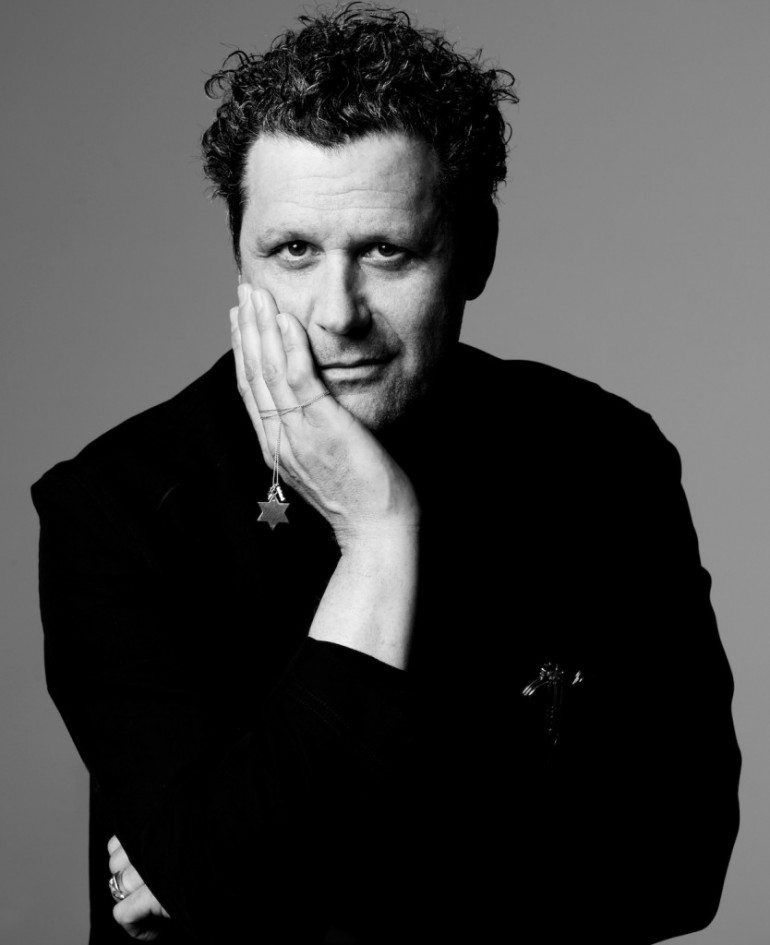 Isaac Mizrahi (born October 14, 1961) is an American fashion designer, TV presenter, and creative director of Xcel Brands. He is best known for his eponymous fashion lines.
Mizrahi presented his first collection in 1987 at a trunk show held by famed New York department store Bergdorf Goodman. The line immediately earned praise from fashion editors, prompting several top retailers to place orders. In 1989, he discussed his designs in an interview with Elizabeth Cannon. He described them as "controlled and glamorous", "elegant", "distilled, refined", inspired by decadence, and by the diversity of New York City. He also expressed his interest in appealing to a refined and exclusive clientele. In 1992, the French fashion house Chanelbought a stake in the company and began to bankroll its operations. Despite continued critical acclaim, sales were inconsistent; Bloomingdale's executive Kal Ruttenstein stated that Mizrahi had "good years and bad years." This volatility is mainly attributed to the designer's failure to establish a defined aesthetic or "Mizrahi Look," as the frenetic designer was famed for changing gears each season. Though the company grossed between $10–20 million a year, it never made a profit, and in fact lost substantial amounts in its final four years of operation. Chanel eventually tired of the mounting losses and pulled financing in October 1998, forcing the closure of the company after the Fall 1998 collection. Among Mizrahi's fans and clients were Hollywood stars Nicole Kidman, Selma Blair, Julia Roberts, Sarah Jessica Parker, Debra Messing and Natalie Portman, to name a few.
From 1995 to 1997, Mizrahi also designed a diffusion line, named "IS**C" in an act of "name effacement" intended to prevent dilution of the designer's full name (cf. the use of "G-d" by some members of the observant-Jewish community in which Mizrahi was raised). This lower-priced line (in the $275 to $850 range) was meant to diversify the label from the very expensive Isaac Mizrahi collection, but it failed to gain traction and was shuttered in 1997.
Mizrahi returned to fashion in 2002 when he began designing another diffusion collection, Isaac Mizrahi for Target. The line was an enormous hit, and soon spread to cover accessories, bedding, housewares, and pet products. Sales volume tripled over five years to over $300 million and introduced the designer to mainstream America. The line was discontinued in 2008 as Mizrahi left for Liz Claiborne.
Mizrahi designed for Claiborne for only one year, 2009. Although advertising campaigns for his Claiborne work—featuring Mizrahi and women of all sizes, races, and ages—were found in major fashion magazines, the line was a disaster almost from launch. The clothes and accessories were very difficult to find, as only a few minor departments stores, which were not found in major cities, carried Claiborne clothes. Gottschalks carried only a few pieces before declaring bankruptcy and liquidating, only weeks after Mizrahi's launch. Furthermore, the few Liz Claiborne outlets that existed were also far from major cities and were found at outlet malls that were too remote for most customers to visit. As a result, on December 2009, the Liz Claiborne website was closed and rumors abounded that the company was bankrupt and in serious debt. As of Fall 2010, Liz Claiborne clothes are sold at J.C. Penney, and are not designed by Mizrahi.
In 2010, Mizrahi launched a label called IsaacMizrahiLIVE! exclusively on QVC.
In 2011, Mizrahi sold his brand to Xcel Brands, Inc.[11] In addition to continuing the IsaacMizrahiLIVE! business on QVC, Xcel Brands is launching various categories under the Isaac Mizrahi New York, Isaac Mizrahi Jeans, and Isaac Mizrahi brands. As of August 2012, footwear and denim have launched in Bloomingdale's and Nordstrom, and Mizrahi's first ever fragrance, Fabulous, is set to debut September 6 on QVC, and in Bloomingdale's in October. Mizrahi remains a shareholder, creative director, and media personality for his namesake brand under Xcel.