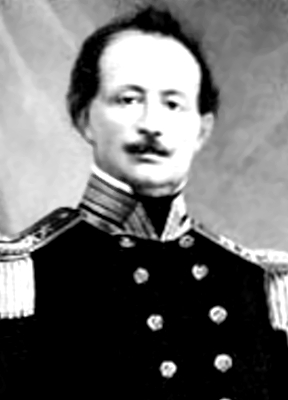 Commodore Uriah Phillips Levy, USN (1792-1862), US Naval Pioneer and owner of Monticello. Born into a large, Sephardic family from Philadelphia, Uriah Levy ran away at age ten to serve as a cabin boy on a trading ship. As promised, Levy returned to Philadelphia for his Bar Mitzvah. However, by age fourteen, Levy had returned to the sea. By the time war broke out between the United States and Great Britain in 1812, Levy was an experienced sailor. Levy reported for duty as a sailing master aboard the U.S.S. Argus in June 1813. In August, the ship Levy was sailing on was captured and the crew was sent to Dartmoor Prison in England. Levy remained a prisoner at Dartmoor for sixteen months.
After witnessing flogging in the Navy firsthand, Levy joined those who opposed corporal punishment and in 1838, while commanding the U.S.S. Vandalia, developed his own system of discipline, substituting mild reforms for corporal punishment. Because of his refusal to inflict corporal punishment on a young seaman, he was court-martialed and dismissed from the service, however President Tyler overturned the decision. In 1857, the Navy dismissed forty-nine officers, including Levy. Levy fought the decision through a Court of Inquiry and was reinstated. After his reinstatement, he rose to command the Mediterranean fleet and received the honorary rank of Commodore.
Levy, an ardent admirer of Thomas Jefferson, purchased Monticello, the late President's estate in 1836 and publicly announced that he intended to restore the property to its original condition and open it for visitation. The house and grounds remained in the Levy family until the estate was sold to the Thomas Jefferson Memorial Foundation in 1923.
Commodore Levy died on March 22, 1862. However, he left behind many legacies. A statue of Thomas Jefferson commissioned by Levy, stands today in the rotunda of the U.S. Capitol. In 1959, the Navy's oldest Jewish Chapel located in Norfolk, Virginia, was renamed the Commodore Levy Chapel in honor of Levy's dedication to his religion and his country.