Hyman Jebb Levy OBM, Founder 1926-2019

Hyman Jebb Levy was born in 1926 to loving parents Louis and Bella Levy of Rochester, New York. He was one of four children with one brother and two sisters. Thefamily emigrated from a city called Monastir in Macedonia in the former Yugoslavia Republic. They were Sephardic Jews whose ancestors had been expelled from Spain; therefore the language used in the home was Ladino. During his childhood, his friends picked for him the nickname "Jebb" and it has stuck ever since. As a young man during World War Two, Jebb Levy served for three years in the Navy on the USS Haynsworth. He survived Japanese suicide plane attacks that had slammed into the ship; others of the crew were not so lucky. After the war, Jebb, like many G.I.'s moved to California to start a new life and career. Soon after, upon the insistence of his parents, he joined Sephardic Temple Tiferet Israel. which at that time was still on Santa Barbara Avenue. Little did they know, that one day their son would be honored in 1988 by receiving the prestigious Sephardic Heritage Award from Sephardic Temple Tifereth Israel.
With his brother Matt, Jebb would find his niche producing high quality ladies apparel. His company Loubella Extendables was named after his parents Louis and Bella. The clothing line was a success and an established part of the fashion of the day. The company would stay in operation for forty-five years.
Jebb's parents by their own actions taught him the importance of giving Tzedakah and communal service. For this reason Jebb created the Hyman Jebb Levy Foundation in 1974 for the primary purpose of promoting Jewish education and to help the needy. The Foundation was immediately put to use to build the Talmud Torah and Levy Library at Sephardic Temple Tifereth Israel. The foundation supports the Sephardic Educational Center in Jerusalem by giving over one hundred scholarships for their summer program. LASHA, Maimonidies Academy, Gimmel, and a variety of programs in Los Angeles and abroad are also supported by the foundation. In 1997, the foundation made an investment in the Sephardic children of Los Angeles by establishing a Jewish youth group called Sephardic Tradition And Recreation or better known as S.T.A.R. Due to this support, S.T.A.R. has become the premiere Sephardic youth organization in Los Angeles providing educational and social opportunities for children and teenagers.
Hyman Jebb Levy OBM and his beautiful wife Donna OBM, were active supporters of Jewish education. Together, they made their presence felt in the community and are dedicated members of Sephardic Temple Tifereth Israel. Jebb's parents worked hard to instill within their children the sacred traditions of the Jewish people, the love of their Sephardic heritage, and the moral and ethic values of Tzedakah, righteous charitable giving. Jebb's own actions stand as testimony to the wisdom and grace of his parent's teachings that gives a person a sense of fulfillment and accomplishment. It is a lesson to us all on the value of motivating our children to do acts of kindness.
His contributions to Jewish life worldwide are still on going, especially through the S.T.A.R. program. May his memory be a blessing. Amen
Rabbi Yitzchak Sakhai, Executive Director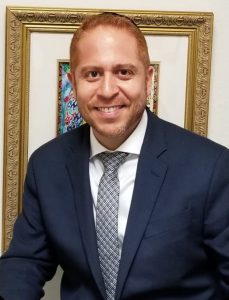 Rabbi Sakhai is an ordained Rabbi with a passion for Jewish youth outreach. Born in Iran, and raised in Los Angeles, Rabbi Sakhai knows firsthand the challenges today' s Jewish youth face in keeping connected to Judaism and the Jewish community. It is this unique experience that inspired Rabbi Sakhai to pursue the Rabbinate, and doing the kind of work he does at S.T.A.R. has always been his dream.
As a certified educator from the Israeli Department of Education, Rabbi Sakhai brings a high level of scholarship and professionalism to his position. He has a warm and friendly personality and S.T.A.R. participants very much enjoy being with him. Having worked for other community outreach organizations, Rabbi Sakhai has a proven track record of developing meaningful relationships with youth. Rabbi Sakhai has helped to instill within his students a strong sense of Jewish pride and identity, thereby drawing them closer to the Jewish community.