Join The Excitement At S.T.A.R.
Sephardic Tradition And Recreation (S.T.A.R.) is a thriving Jewish youth organization serving the Sephardic Jewish Community in the Los Angeles and San Fernando Valley area. S.T.A.R. Provides monthly events for 4 age groups, Tikvah (7-9 Years old), Aviv (10-12 Years old), Mitzvah (13-15 Years old), Haverim (16-18 Years old). All events are age appropriate with a high Participant to Supervisor ratio to assure the safety of all of our members. The goal of S.T.A.R. is to provide meaningful after school programs to Sephardic youth to enhance their awareness of these six principles: Community, Values, Tradition, Preservation, Israel & Pride
Your donation and support will help Jewish children get in touch with their traditions and Jewish values.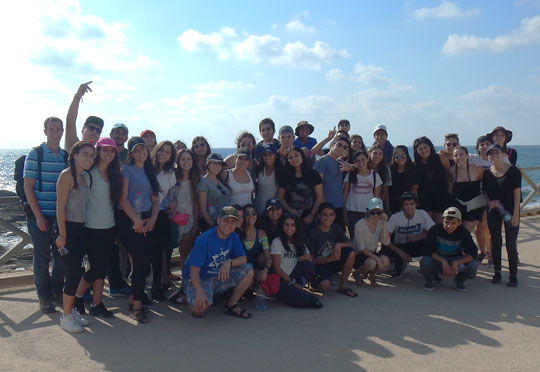 The Magen Leadership Program is a 3 week experience of friendship, discovery and awareness in Israel. With an emphasis on Sephardim, Judaism, its' people, language, history, traditions, heroes, places and values will all be brought to life through meaningful excursions filled with a sense of adventure. MLP participants will enjoy the best that Israel has to offer, with full access to Israel's most sought after attractions. They will stay in fine accommodations and be treated to Kosher Israeli food and guided luxury transportation throughout the trip. Rabbi Yitzchak Sakhai of S.T.A.R., in addition to adult chaperons and an armed security guard/Medic, will accompany MLP participants. MLP participants will fly from LAX with Israel's official airline El Al (non stop) to and from Tel Aviv.
Behar/Bechukotai- May 19, 2017

This Shabbat:

Friday Candle Lighting: 7:33 pm
Shabbat Ends: 8:22 pm

Torah Message:

The Key to the Foundation

"If you will follow My decrees… I will walk among you; I will be a G-d unto you, and you will be a people to Me." (3:12)

In the uplifting prayer of Hallel we say that the "stone that the builders' 'hated', became the rosh pina." Rosh pina is typically translated as "the foundation stone", but the literal translation is "head of the corner". The "head" of something is far from its "foundation". Maybe we could find a better concept for "rosh pina" than "foundation stone"?

When a stonemason builds he wants cuboid stones, ones of a shape that will fit nicely into his construction. Anything else is "a stone that the builders' hate".

In his 12-volume A Study of History, British historian Arnold Toynbee describes the Jews thus: "There remains the case where victims of religious discrimination represent an extinct society which only survives as a fossil…by far the most notable is one of the fossil remnants of the Syriac Society, the Jews."

According to Toynbee the Jews are the "stone that the builders hated." We don't fit into any neatly schemed historical theory. We are a useless "fossil."

But there's one place in building that you don't want, and you can't use a regular cuboid.

When you get to the pinnacle of a building you need a keystone, a wedge-shaped stone that will lock together the rest of the stones in the edifice.

The Jewish People are that keystone, the apex of the entire building of the world.

The Jewish People, the "misfit" of society, the "fossil" of history becomes the "rosh pina" — its keystone.