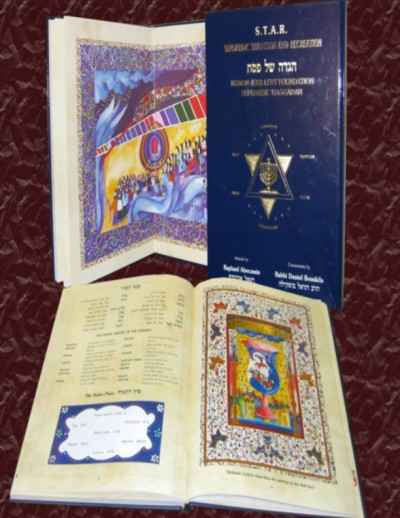 S.T.A.R. Bnei Mitzvah Haggadah Gift Program
Having a Bar or Bat Mitzvah this year?
Contact your Sephardic Synagogue about participating in the S.T.A.R. Bnei Mitzvah Haggadah Gift Program
One of the most potentially meaningful events in any Jewish child's life is his or her Bar/Bat Mitzvah. The messages and lessons that Bnei Mitzvah experience can impact their spiritual lives forever. In order to maximize this potential, S.T.A.R. has created the Bnei Mitzvah Haggadah Gift Program, which culminates yearly with the S.T.A.R. Torah & Megillah signing ceremony.
The Bnei Mitzvah receiving a personalized certificate of recognition from S.T.A.R. on the day of their Bar or Bat Mitzvah. Included with the certificate is a coupon for a free beautifully illustrated Sephardic Haggadah. This Haggadah is a stunning piece of art, whose artwork was commissioned by the Hyman Jebb Levy foundation from the acclaimed Israeli artist Raphael Abecassis. The hard cover book, with many gold leafed pages, contains a translation and commentary from Rabbi Daniel Bouskila,
S.T.A.R President, Mr. Jebb Levy and Executive Director, Rabbi Sakhai personally visit the family home and present a special edition S.T.A.R. Haggadah to the Bnei Mitzvah. They encourage the recipient to cherish and use it yearly at their Passover Seder. A free gift certificate is also presented to the Bnei Mitzvah and to a friend of their choice to attend the next S.T.A.R. event. This visit to the home of the Bnei Mitzvah by the S.T.A.R. Rabbi and President demonstrates to the family how much S.T.A.R. cares about the youth of our community and a personal connection is created between the family and S.T.A.R.
The program culminates annually with a special Torah and Megillah signing ceremony for the Bnei Mitzvah, their families and the community members of the hosting synagogue. All ceremony attendants are invited to participate in placing a letter in one of two holy Jewish Scrolls, the Torah and Megillat Esther. A picture taken during their letter writing is used to create a beautifully framed plaque of the occasion and can be ordered at cost by each family for display in their home.
For more information call us at (310)855-3656 or to set up an appointment.