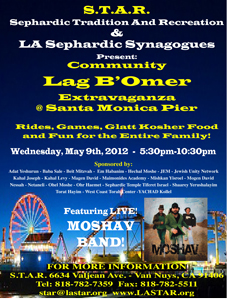 Wed. May 9th, 2012
For the Whole Family!
Join thousands of other Jews from all over Los Angeles as we celebrate one of the happiest times of the year; Lag BaOmer.  For hundreds of years this day has been celebrated by Jews all over the world and has brought unity and friendship among-st people everywhere.  This event will take place, Go-d willing, at the Santa Monica Pier which has been rented out for the night. There will be Great Glatt Kosher food accompanied by Games, Rides, and LIVE music by the Moshav Band. 
This event is for the entire family. 
Wristband prices: $12 (includes entrance and rides) / $10 (includes entrance)
Please contact us or any of the participating synagogues for wristbands and Information.