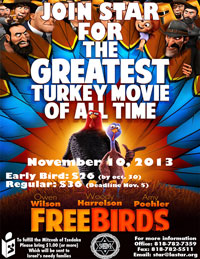 Nov. 10, 2013
Ages 7-12 (Tikva & Aviv)
Join STAR for the FUNNIEST movie of the year. Turkeys have never been this brave! Don't miss out on this funny and exciting opportunity.
Early Bird Only: $26 (By Oct. 30)
Regular Only: $36 (By Nov. 6)
Price includes: Transportation: Lunch: Snacks: Tickets: Surprise Shopping!