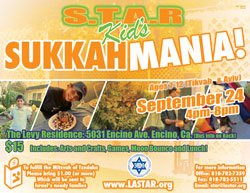 September 24, 2013
Ages 7-12 (Tikvah & Aviv)
We are ready to have a party that you will never forget. Come and spend the happiest time of the year with the most Awesome people in LA!!!
We will be having arts and crafts, games, competitions, prizes, great food and much more!!!!
Only: $10 (ends Sep. 17)