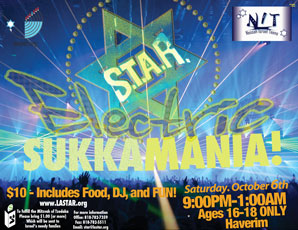 October 6, 2012
Ages 13-18 (MItzvah & Haverim)
Awesome Electric Party Under the STARs with all your friends from STAR and Nessah. Great Music, food and much more. We start at 9pm and we go until  the weeee ours in to the morning.
Come hungry and ready to PARTY!!!!!!
$10 Includes Everything! 
Party Starts at 9pm till 1AM @ Nessah Synagogue 142 S. Rexford Dr. Beverly Hills