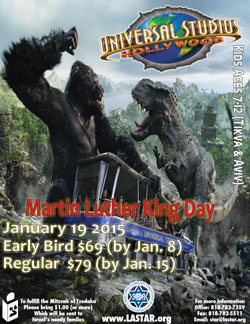 January 19, 2015
Tikvah & Aviv (Ages 7-12)
Kids, Are you ready for HOLLYWOOD!!!!!??? Well you better game your Game face on because STAR Is taking you to Universal Studios Hollywood!
A full day at the funnest place on EARTH. Send in your applications now for special Early Bird Pricing.
Early Bird Price Only: $69 (Ends Jan. 8)
Regular Price Only: $79 (Deadline Jan. 15) 
Price Includes:
Transportation
Food
Park Entrance